Katy Perry Shares Her One Critique Over Meghan Markle's Wedding Dress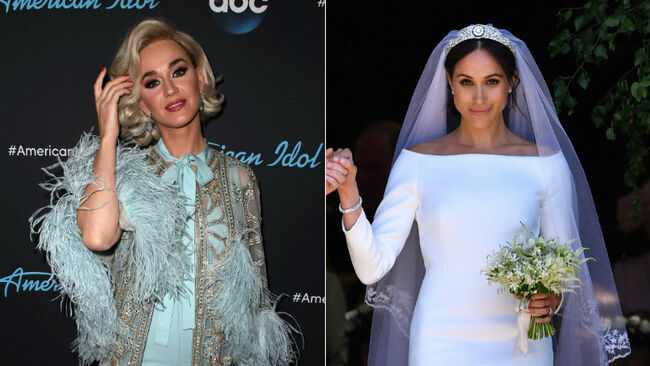 Katy Perry is a fan of Meghan Markle, but the pop star had one critique over her Givenchy wedding dress that she donned during the royal wedding on Saturday (May 19), as per her new interview with ET.
During night one of the American Idol finale, Perry spoke about the fashion highlight from the royal wedding, admitting that she would have changed just one thing about the dress. "I would have done one more fitting," the 33-year-old star said of the Givenchy number. "I'm never not going to tell the truth! One more fitting, but I love you." As for whether she preferred Markle's dress over some of the royal gowns of the past, Perry said that she enjoyed Kate Middleton's 2011 Alexander McQueen bridal look. "Kate, Kate, Kate won, Kate won!" she added.
And yet, Perry couldn't be happier to see Markle and Prince Harry finally make things official. "I'm so happy for them, and, you know, I don't know them from Adam, but it's amazing what she's doing with all this, her humanitarian efforts," she continued. "You know, the fact that she's a proud feminist, I love all that. I support her as another woman and love her and wish them both well."
Meanwhile, Prince Harry seemed happy with his bride's silk gown, according to the dress designer Clare Waight Keller. "He came straight up to me and said, 'Oh my God, thank you. She looks absolutely stunning,'" Waight Keller told reporters on Sunday in Windsor, as per PEOPLE. "I think everybody saw on television he was just absolutely in awe. I think she looked incredible."